Hello Fashionistas,
It has been a while but I am finally back, and returning to my favorite designer, the demigod, Marc Jacobs. We all want him, but few can afford him, so for those of us without deep pockets, discount designer outlets are a godsend. I found the perfect springtime outfit that is fantastic but affordable.
The Top:
It's purple, it's hammered silk, it's Marc by Marc Jacobs. This adorable top is dressy enough to wear to the office and casual enough to wear to a barbecue, but no matter where you go in it, you will look fabulous. It's not clingy, it's not low-cut, it doesn't show a lot of skin, but it is still flirty, light, and girly. Plus it's 38% off at bluefly, so well within the reach of all of us.
The Shorts:
Ever since the first whispers of Spring arrives, women everywhere have been prepping for this moment with spray-tans, crash diets, and ankle weights. It is the season of sexy legs and these white Marc by Marc Jacobs shorts are the perfect way to show yours off. They are the perfect bottom to complement the classy purple silk top by being risqué within reason. Look for them as well at Bluefly, where they are 37% off.
The Shoes: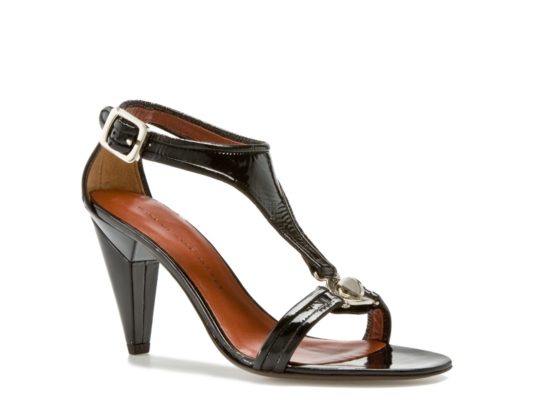 Whether or not they are the focal point of an outfit, the shoes will make or break your look. These leather t-strap sandals will lengthen the legs we have all been working so hard on --and keep the attention on our legs, not our feet. They are chic and sophisticated, but they know their place as supporting actors and won't try to steal the spotlight. Make sure to get a pedicure before wearing though, because nobody likes a naked toenail. Best part? They're 43% off at DSW.
Happy Shopping :)